Acapella Recruitment

In tune with your recruitment needs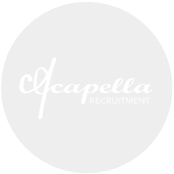 ABOUT US
Acapella Recruitment operates as a company-focused recruitment firm.
We simplify recruitment processes for companies whilst cutting out legwork and costs.
We offer clients bespoke services that range from candidate generation and CV filtering to full 360 degree recruitment.
CLIENTS
With 17+ years experience in the recruitment sector, Acapella operates as a company-focused recruitment service – we're here to make your life easier when recruiting.
Businesses recruitment models are constantly evolving; we work in tune with your company's individual needs by tailoring our recruitment services to your requirements.
We have helped recruit across all industry sectors, please get in touch to see how we can help you.
CANDIDATES
PLEASE NOTE: We often work on a retained basis for companies who simply request our candidate generation and CV filtering services. In these cases we are not dealing with the full recruitment process, so we are not in a position to discuss aspects of the role, give feedback, contact the client on your behalf or advise on company names.

If you have seen an Acapella job advert that interests you, please read it fully. It will explain the process for that position.
Where we are providing the full recruitment process for a client, suitable candidates will be contacted by us directly.
SERVICES
Acapella offers a range of services for companies looking to streamline their recruitment process, these include:

Job Advert Creation

Candidate generation

CV Filtering

Headhunting

Full Recruitment

Tailored Recruitment Packages